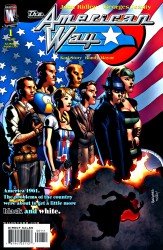 American Way #01-08 Complete
During the Cold War and the beginning of the civil rights movement , the United States held back the communist threat and won the hearts and minds of people all over the world with their team of superheroes , civil defense !
What the world does not know that the team was established by the Government of the United States after World War II, right , and what an exciting battle superheroes were actually delivered.
Down on his luck car salesman gets offered a job in the management of public relations team, and with a veil lifted , he sees the struggle as a template , relaxed, and the characters are just plain lazy .
Breathing new life into the team , as well as the inspiration to use the team as a tool for jumping well, he introduces a new character , a new American . With a jetpack on your back, and the courage and strength to do what is right , the New American modern man of the space age and the greatest hero of America. And the New American Afro -American .
Is America ready for this new hero , and more importantly for social change ?