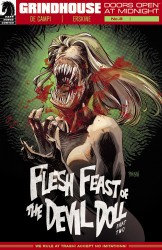 Grindhouse - Doors Open at Midnight #8
Dark Horse publisher
Pages: 31
2014 year
English comics
Size: 62.5 mb.
References: overrated. Moral: Consumables . Today is the right one for some over-the- top sex and violence ! Bringing a taste of midnight movie exploitation comics, Grindhouse delivers four to two questions Gore operas , beginning with "B Vixens from Mars ," pitting one-eyed southern lusty Latina deputy against alien chicks committed lay their eggs in the entire male population !