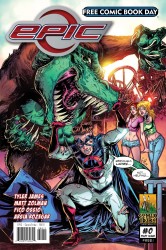 Epic #00 - Pilot (FCBD)
Other publisher
Pages: 37
2014 year
English comics
Size: 44.8 mb.
After a freak experiment gives teen Eric fervor incredible power , it does what you would do ... he puts on a costume and become EPIC! Super strength, speed , flight , optical explosions ... it's a dream come true Fanboy . Unfortunately , he just discovered that he has one weakness ... beautiful girls ! While most boys his age lose their composure around chortytsi , EPIC loses his powers ! Living in Miami , home to the zaniest and most superzlodeev bikini per capita in the U.S. , it will be a problem ...
Not subtle revision or failure teaser is a super - sized shooters, 32-page pilot number of your new beloved super hero books ... for free! Get it on 3 May, and then grab the first issue of the new ongoing series EPIC next Wednesday at a local comic book store!