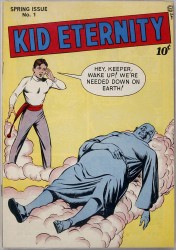 Kid Eternity (Volume 1) 1-18 series
Collections / Other publisher
Pages: 18 issues
1946-1949 year
English comics
Size: 504.8 mb.
The title character was created in 1942 by Otto Binder and Sheldon Moldoffom for Quality Comics. Kid - unnamed boy who died at a young age : the boat on which they sailed with his grandfather , a sailor , sank a German submarine. In the afterlife boy learned that bureaucratic error angel clerk he died prematurely , and actually he was supposed to have 75 years of life. As compensation, he was given a superpower and returned to Earth with Mr. Keeper , thereby angel clerk. When Kiper was next to the boy , the latter could cause deceased persons historical / mythical characters that they help him fight the various enemies . In addition, the boy and Kiper could fly and become invisible . And to activate its force guy had to do was say the word "eternity" .