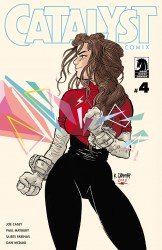 Catalyst Comix #4
Dark Horse wants you to party hard! That's why you're invited to the galactic date with Amazing Grace! For dance club with the agents of change! And superactivist world tour with Frank "Titan" Wells! Once again, Catalyst provides all those other super comics can not cope!
Masterminded by Joe Casey (sex, G??dland)!
Wraparound cover Rafael Grandpa (Mesmo shipping)!
Artists Dan McDaid (Doctor Who), Ulises Farinas (Gamma), and Paul Maybury (Aqua Leung)!