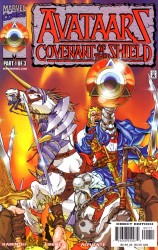 Avataars - Covenant of the Shield #01-03 Complete
Marvel / Collections publisher
Pages: 3 issues
2000 year
English comics
Size: 39.1 mb.
Eurth alternate Earth created Shaper Worlds with Eternity , Infinity, Living Tribunal, Uatu Watcher and oversees . Hloriany , Prester John and stranger helping to create . As a result, the world of Might and Magic inhabitated with alternate reality counterparts in the classic Marvel heroes and villains. The names and circumstances may differ , but the essence remains the same.
Although mostly a who's who among the characters clearly , there are some special features.
* Captain Avalon is clearly analogous to Captain America, but its mysterious origin, as depicted more like Captain Britain.
* His Lady of the Lake also plays Roma - the role .
* Deathlight, as expected , the combination Blackout life and Laser. But Armor depicts a stylistic resemblance to the Silver Samurai .
* Monthly Dragon colleague can be a bad image moonstone.
* Spider-Man and his enemies have been tweaked to provide magical creatures . Only fellow Scorpio seems to resemble green Brood.
* The character with the appearance of Morbius' plays a role more like Baron Blood.
* Mighty Thor is described as destroyer. Which is actually another Marvel character.
* Widow of the Web is a web colleague Madame in her role in life by Spidey . But her costume modeled Spider-Woman/Jessica Drew.