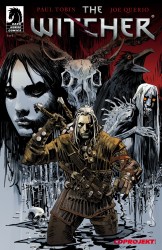 The Witcher #01
Journey to the edge of the Black Forest, Monster Hunter Geralt meets a widowed fisherman whose murderous wife dead and living in a terrible house known as the Glass House, which seem to have an endless number, nothing to fill them out, and terror around every corner.
By Eisner winner Paul Tobin!
The Witcher game collectively won more than 250 awards and sold over 5.5 million copies worldwide.
There are currently two games available on multiple platforms, and the third is scheduled for release in 2014.