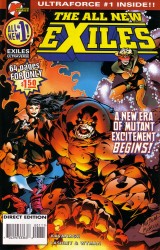 The All New Exiles (1-11 series + Specials) Complete
Collections / Other publisher
Pages: 14 issues
1995-1996 year
English comics
Size: 123.2 mb.
Published by Malibu/Marvel comics. This was the time when Marvel had bought Malibu and joined their two universes together. This was a new team of Malibu's Exiles super-team, half the members from Malibu, the other half Marvel characters such as Juggernaut, Reaper and Sienna Blaze.
- All New Exiles Infinity (Alt Cover)
- All New Exiles Infinity
- All New Exiles vs. X-men