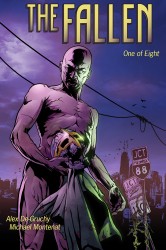 The Fallen #01
Of course, superheroes to save the world. That's what superheroes.
But then came the day when they did not, when the pulse is killed billions and turned the planet into a wasteland devastated.
Eight years later, a man wearing a mask and cloak decided that the human race, limping long enough either left Superpowered people rise up as gods, or all of humanity is finally put out of his misery.
But where are the villains are heroes. Where are those who fly are those who fall.