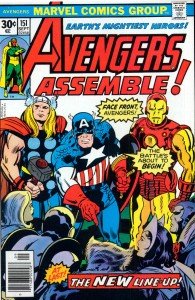 Avengers Vol.1 #151-200
This is the bicentennial issue of the Earth Mightiest Heroes ! However , the mood in the Avengers Mansion with a bitter aftertaste, as Ms. Marvel gives birth to a healthy baby boy poslestrannoy three days of pregnancy. Something very strange happened to Carol Danvers , but Dr. Donald Blake and Hank Pym can not determine what. Something else very strange is happening in New York ... prehistoric dinosaurs , medieval knights, and spaceships ! Where in the world , or perhaps when the world did they come from ? ! ? One Avenger has a strong suspicion ... Now full-grown son of Carol Danvers ! When Hawkeye confronts " Marcus " and his mysterious machine, the truth is revealed ! It will be really happy to bring an end to all participants ... or just think? The first and last appearance of Marcus Immortus .
Flashback cameo Immortus .
Avengers Lineup: Beast , Captain America , Iron Man , Hawkeye , Jocasta , Ms. Marvel , Scarlet Witch , Thor , Vision, Wasp, Wonder Man , and Yellow .
Notes: Avengers 200 generated considerable controversy concerning the circumstances of pregnancy do not want Ms. Marvel .