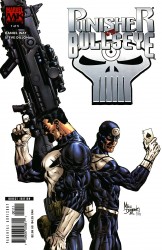 Punisher vs Bullseye #01-05 Complete
Collections / Marvel publisher
Pages: 5 issues
2006 year
English comics
Size: 48.5 mb.
"A man 's got style " Alphonse Patrillo in rare breed : a mob boss looked down the barrel of a rifle Punisher , and lived to tell about it. From that day , he struggles - great effort - stay under the radar Punisher as he planned his revenge . Now uncle Fonzie has got a plan : he's going to fight fire with fire. Who do you hire to take out a relentless psychopath like the Punisher ? even more relentless psychopath . And this guy , well, let's just say that he never misses . wall to wall actions of the creative team behind the bullseye 'S GREATEST HITS and the supreme power : NIGHTHAWK: Daniel Way and Steve Dillon .