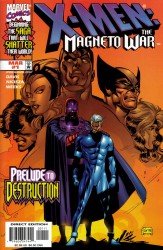 X-Men - The Magneto War
Marvel publisher
Pages: 32
1999 year
English comics
Size: 10.1 mb.
The issue opens with an idyllic Charles Xavier's dream of a picnic with their students. Dream warps into a nightmare , courtesy of new powers Novice Rep- Ram - both caused by Fabian Cortez.
Rem-RAM also zaglyadyvaetson Rogue and Wolverine , but his plans backfire when his manipulations shake Xavier woke up. Professor wakes up his team from their slumber and sends them to participate Cortez and his associates.
Vinterlyudii , Quicksilver hidden pays visit to Joseph in Israel. Quicksilver is struggling to reconcile his perception of his father Magneto with the reality of Joseph - which seems to be under the age of Quicksilver, and, of course , more compassionate than the magneto. Quicksilver escapes as quickly as it arrived .
Meanwhile , the assistant turn the tide against cX -Men in the midst of the battle. Cortez enhances bone marrow sprout growing in every direction, while Barnacle concludes in a storm (or even phased Shadowcat!) In the shell carapace.
Quick work, Nightcrawler and Xavier pushes servants long enough for the assault to clear the field. Cortes delaetposlednyaya attempt to strengthen the powers of Rem- Ram enough to penetrate the consciousness of Xavier , but Rogue postavlyaetdobit Cortez before he can succeed .
The servants of others are shocked when Xavier readily repair the damaged psyche assailant , Rem-RAM. While Cortes is running , the other seven Ministers request asylum - and denied Xavier !
Rogue expresses its shock at the failure of Xavier willing students, but Charles reveals his true goal, giving them : the mission of Cortez was in search of the true Magneto ( and the truth about Joseph ) , and Xavier wants otslezhivatzlodeev to their next destination .
Water- page epilogue ( at first glance ) is true Magneto approaching a small group of "The Best" Acolytes, Amelia Voght lead in the Netherlands. He pulls her aside and gives her a special mission : to protect the Quicksilver and the Scarlet Witch , until he "burn [ s] the decline of humanity from the face of the planet forever ! "