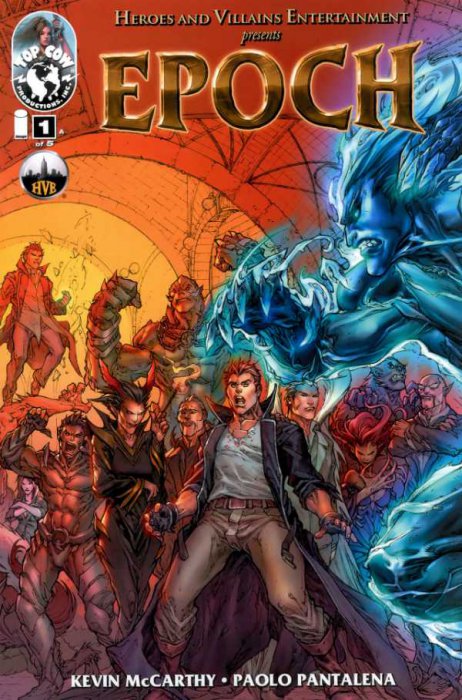 Epoch #1-5+TPB Complete
Collections / Other publisher
Pages: 6 issues
2011-2012 year
English comics
Size: 107.8 mb.
Top Cow Productions and Heroes and Villains Entertainment proudly present a dark and intensely kinetic tale from writer KEVIN McCARTHY (Red Sonja, The Amazing Adventures of the Escapist) and newcomer PAOLO PANTALENA (What If?: House of M, War of Kings: Darkhawk). Jonah Wright is an NYPD detective assigned to a mysterious murder case that threatens to rip the reality he knows and plunge him into the shadow world of his heritage--the Supernatural. Jonah's quest will drop him deep in the middle of a conspiracy that threatens to tear apart the very fabric of society.
NYPD detective and his partner Michael are investigating a series of murders. They discover a witness, a congresswoman named Mya Tokage. She agrees to accompany them to the precinct and answer some questions in the condition that there are no TV news crews. Mya Tokage gives them the name of Wilfred Glendon in exchange for immunity. However upon arriving at Glendon's hideout, Wright and Michael discover his mutilated body. The killer, who is still present transforms into a blazing blue demon and wipes out the entire squad and punches a whole through Jonah's chest. At this point, Michael reveals himself to be an archangel and chases the demon across the rooftops. However during the ensuing battle a masked figure takes Michael by surprise and slashes his wings off with a sword and kills him. Jonah is taken to the hospital where he makes a miraculous recovery and is placed on medical leave. However Jonah continues with the investigation and recognizes the wounds on Michael's back as identical to those he had seen on the back of his father Gabriel. Jonah follows Gabriel to Chinatown and confronts him, Gabriel tries to turn him back as he doesn't want Jonah to discover the truth. However, Jonah is adamant and in the end Gabriel relents and reveals to him the truth, that he is a member of a council of supernatural creatures.