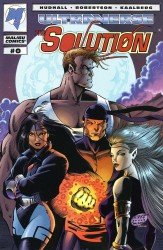 Solution #00-17 Complete
Other / Collections publisher
Pages: 18 issues
1993-1994 year
English comics
Size: 259.9 mb.
The decision heroes for hire, ready to take missions for a fee. In the Russian nuclear bases attacks Quattro, four ultra-powered mercenaries and their nuclear warheads were stolen. Meanwhile, the decision is in Hong Kong fighting the dragon Fang, Triad-largest group in the world. In the end, a KGB agent trying to hire a solution to stop Quattro from storing warheads. When a dark magician uses his magic to try to divine information about Quattro, she believes that Rex Mundi feels her presence and is making plans to retaliate immediately.