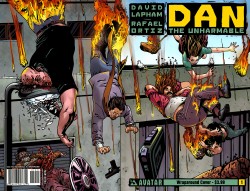 Dan The Unharmable #01-12 Complete
Collections / Avatar publisher
Pages: 12 issues
2012-2013 year
English comics
Size: 428.5 mb.
Eisner Award-winning writer David Lapham delivers a fresh shot in the face with his new ongoing series about crime , family and being lazy , but invulnerable, a private investigator . Dan is something of a mercenary. Whatever you want to do , whether detective work , muscle work , blackmail works, bedroom or work - Dan is your man . Dan is not afraid of anything because Dan completely unharmable. You can beat him with sticks , stick it in the oven , throw it off a bridge , or shoot him in his head its still to Dana . He never met with resentment , which alarmed him or man he cared about , at least for more than a night. Dan prefers not to be chained down to worldly goods . It is sufficient for the test to keep him in cigarettes and beer for a night or two , maybe a room, and he was satisfied . Dan Bohemian Paradise is all about to change , however. You see, before Dan was so unharmable it left a few loose ends . Now these loose ends grow and they were killed by their mother, which means not only that Dan has to solve his most personal case yet, he is now legally responsible for four people , which nothing but unharmable .... Dan Unharmable new ongoing series of noir legend David Lapham Art featuring Rafael Ortiz . Available with regular , Wraparound and a special retro cover by series artist stimulate Rafael Ortiz .