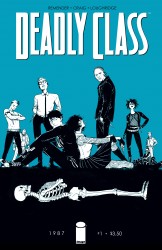 Deadly Class #01
Other publisher
Pages: 35
2014 year
English comics
Size: 56.4 mb.
It is 1987. Marcus Lopez hates school. His assessment suck. He has no money. Athletes will torment your friends. He can not concentrate in class because of his mind constantly drifting to stunning girls in the front row and Dag Nasty show him tickets . But athletes are children of the top killers of Joseph Stalin , the teachers are members of an ancient league of assassins, he will not be able to grade it " partition 101 " and destroy it , the most famous member of the crime syndicate in Japan, has a two-digit number of victims .
Welcome to the most violent high school on Earth, where the world's top crime family to send the next generation of killers learn. Killing is an art. Killing is a craft . At Kings Dominion High School for the deadly arts, knife in the back is not always metaphorically , not poison your classmates .
Join writer RICK Remender with rising star Wesley Craig (Batman) and legendary colorist Lee Loughridge ( agents ) to recall the mid-1980s underground through the eyes of the most corrupt and dangerous teens on earth.