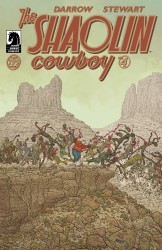 Shaolin Cowboy #04
It is doom in the low desert, as Shaolin Cowboy trying to reverse the situation at the Dead Sea kamikaze zombies and learns that the devil you know, it may be easier to deal with than the devil you do not. Thirty-one page with fists and feet compared to rotting flesh. This is not JD Salinger Catcher in Die.
From multiple winner Geof Darrow Eisner (Hard Boiled, a big guy and Rusty)!
Withdraw blood rushing!
So many things, you get a contact high adrenaline!
Do not Miss Darrow each month in Dark Horse Presents!