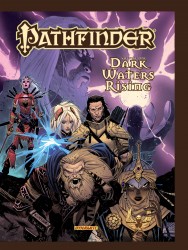 Pathfinder Vol.1 (TPB) - Dark Waters Rising
Dynamite publisher
Pages: 298
2013 year
English comics
Size: 512.3 mb.
Warrior Valeros can rely on his sword arm and his friends - a mysterious sorceress Seoni, savvy elf rogue Merisiel, powerful wizard Ezren, traveled a lot gnomes ranger Harsk, and courageous cleric Cyrus - but nothing could prepare him for the dangers that lurk ahead . Goblin tribes scattered Varisia that unification ways never seen again . At the heart of this strange evolution of an ancient evil force , who wants to re- establish itself in the world of Golarion!
The award-winning fantasy world Paizo, in fiction line and tabletop RPG teperverh dreams comics ! With action-packed story written by Jim Zub (Street Fighter Legends, Skullkickers) and incredibly detailed paintings rookie Andrew Huerta, is the first volume introduces readers to the richly provided for a fantasy world filled with compelling characters and attractions. This beautiful , oversized hardcover collects the first six issues of the comic book series , as well as including an exclusive 10 page bonus story, "The Last Mosswood Goblin " Jim Zub and Ivan Anaya , found nowhere else but here ! Other features bonus more than 30 pages of meetings , the characters and the world item for Pathfinder role-playing game , including a brand new poster map of the region studied in the Pathfinder comic!