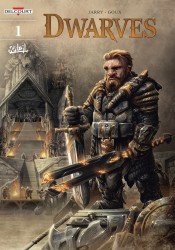 Dwarves Vol.1 - Redwin of the Forge
Other publisher
Pages: 58
2016 year
English comics
Size: 132.6 mb.
A Lord of the Runes has the honour of fighting for his clan. In the event of conflict or dispute, this avoids a bloodbath between the fortress-states. Two fighters, one winner, and then the conflict is over.
Redwin is a teenage Dwarf of the Order of the Forge. He wants to become the Lord of the Runes of his clan against the wishes of his father. Unable to bear the humiliation of his father being called a coward, he decides nonetheless to become Lord of the Runes by his own means. The ensuing initiation rites include not only the art of forging arms, but also that of fighting... To become a Lord of the Runes, Redwin will confront a thousand warriors, including Rom who shares the same ambition. He will lose a lot, his soul, and his father in the pursuit of his obsession.