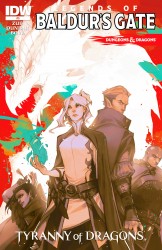 Dungeons & Dragons Legends of Baldur's Gate #1-5
Collections / IDW publisher
Pages: 5 issues
2014-2015 year
English comics
Size: 172.8 mb.
Evil, meet my sword! Sword, meet evil! Generations have passed since the original Heroes of Baldur's Gate saved the city and the Realms. Now a new threat rises and an unlikely group of misfits are thrust into adventure with MINSC, the legendary Ranger do-gooder with a heart of gold, brain of lead, and hamster of pronounced wisdom.