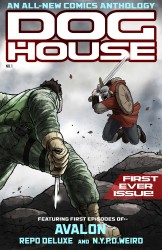 Doghouse #01-09
One comic book, three stories. Welcome to THE DOGHOUSE.
"MAYDAY MAYDAY! THIS IS 09-07682! WE ARE DECLARING AN EMERGENCY!"
A British Army Chinook falls out of the sky and crash lands... somewhere else. The survivors are a long long way way from home - in AVALON.
"SHE'S JUST A KID." "NO... SHE'S ONE OF US."
A small girl named Emily faces off against a group of heavily armed terrorists. Welcome to a New York that isn't quite the same as it used to be - in NYPD WEIRD.
"REPO IS A DANGEROUS LINE OF WORK. ESPECIALLY THE PEOPLE WE GO AFTER."
A blue collar repo man takes his team after white collar assholes, but things never quite go to plan for Jack Miller - in REPO DELUXE.