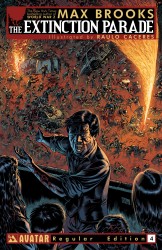 The Extinction Parade #04
Avatar publisher
Pages: 33
2013 year
English comics
Size: 73.9 mb.
Great comic horror this year continues its brutal march to destruction ! His books on zombies entertained millions of readers , and now Max Brooks reviewing vampires as he brings an all-out war on the undead! Zombies were at best an inconvenience for the vampire race for thousands of years , but never a real threat . Their clumsy foothold over the people has always been repulsed. But this time the wave of shambling dead already turned the corner and quickly depleted the ranks of the living. Even with superior abilities and ferocity vampire race could find a way to stop thinning ?
Available with a Regular , Wraparound, End type and Bloodwashed Retailer Incentive cover by Raulo Caceres . Also available with a special black leather cover , limited to only 1000 copies !