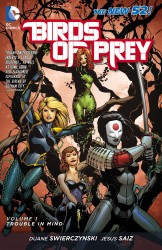 Birds of Prey Vol.1 - Trouble in Mind
DC publisher
Pages: 159
2012 year
English comics
Size: 189.6 mb.
The first collection of the new BIRDS OF PREY series! The team struggles to stop bombs from killing the citizens of GOTHAM CITY. Plus: Is BLACK CANARY guilty of murder? Collects BIRDS OF PREY #1-7!
THE SIRENS OF THE NIGHT
One is wanted for a murder. The other is one the run for knowing too much. Together, Black Canary and Starling work in Gotham City, taking down the villains other heroes can't touch. But now, as a grizzled newspaper reporter threatens to expose them, the two get sucked into a nightmare involving stolen pharmaceuticals, terrorist for hire and killers in stealth suits who can appear --- and disappear --- at will.
Realizing that Gotham City's citizens are in grave danger, Black Canary recruits Katana, a vengeful samurai, and notorious bioterrorist Poison Ivy. Will the Birds of Prey be able to work together to save Gotham?
BIRDS OF PREY: TROUBLE IN MIND (collecting issues 1-7 of the New 52 series) is hard hitting story by mystery novelist DUANE SWIERCZYNSKI (Expiration Date, Cable) and artist JESUS SAIZ (THE BRAVE AND THE BOLD).