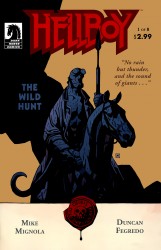 Hellboy - The Wild Hunt (1-8 series) Complete
Hellboy - a supernatural creature from hell. His real name - Anung un Rama, son of a fallen angel. He appeared in the world in Scotland December 23, 1944 as a result of a mystical ritual conducted by Grigori Rasputin commissioned by occultists of the Third Reich ("Project" Ragnarok ""). By coincidence, this has got to imp Americans observe the ritual of the Nazis, the ability to attract otherworldly forces and change the balance of forces in World War II.
Educated in the United States on a military base, Hellboy joined the secret Bureau of Paranormal Research and Defense, created to protect the country from a variety of mystical and supernatural beings and forces.