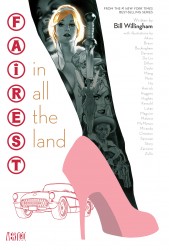 Fairest - In All The Land
Vertigo publisher
Pages: 160
2013 year
English comics
Size: 288.8 mb.
In the spirit of Fables: 1001 Nights snowfall and fables : Werewolves of the Heartland comes first in the history of the original graphic novel from the pages of the fairest number 1 New York Times bestselling writer Bill Willingham .
Fairest explored secret histories most stunning beauties in Fabletown: Cinderella, Snow White , Briar Rose , Rapunzel , and the list goes on and on . In just over the whole earth , the best names in comics take their turns in the past concretization of the most beautiful fables in existence. For all those who want to immerse themselves in fair or fable , this original graphic novel is fantastic entry point , as well as a great new chapter for those who have been following the epic tale of Bill Willingham's for many years .