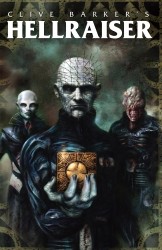 Clive Barker's Hellraiser Vol.2 - Requiem
Boom publisher
Pages: 108
2012 year
English comics
Size: 220.7 mb.
Pinhead has grown tired of his role as Hell's priestly servant. He has enacted a plan to free himself from Hell, which involves the only human to ever defeat Pinhead and his Cenobites: Kirsty Cotton. But Kirsty has her own motives for working with the iconic killer, and their chess match reaches it end game here! "Requiem" spirals the legendary Hellraiser saga to all new horrifying depths where the line between Cenobite and human is written in blood.
Collects issues 5-8 of Clive Barker's Hellraiser.