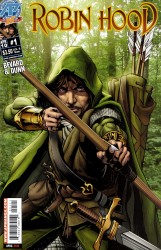 Robin Hood
Antarctic publisher
Pages: 36
2010 year
English comics
Size: 23.4 mb.
Robin Hood ballads were written in XIV century , which resulted in a relatively small variation plots. In one of the most comprehensive collections of English ballads , Francis Childe published in the XIX century , there are 40 works of Robin Hood.
According to one version , Robin was a yeoman , that is a free peasant, in other versions, it appears unfair destitute nobleman , often - Earl Huntington .
Birthplace of Robin Hood of Locksley village called by the name which is sometimes referred to himself and Robin - Robin of Loxley . Its forest army has dozens of free lances . All of them - excellent archers , bold , inventive and in their noble people .