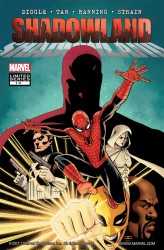 Shadowland #01-05
Marvel / Collections publisher
Pages: 5 issues
2010 year
English comics
Size: 59.3 mb.
Matt Murdock Dared Evil…and Lost! The battle for the soul of a hero begins! Pushed beyond his limits, Daredevil faces off for a final time against his deadliest foe--Bullseye-- in their most brutal battle ever with more than just Hell's Kitchen is at stake. Spider-Man, Luke Cage, Iron Fist, Punisher and more join forces to stop a war that is breaking out throughout New York, with Daredevil at the center. This event will change the streets of New York City—and the heroes that protect it—forever. Plus, a jaw-dropping final page that will have everyone talking for years to come!
A shackled, muzzled and captured Bullseye is being transported to the proper facilities. He devises a plan to escape. He tells the guards that he is the only one that has ever been able to control the Sentry and that he would tell them how to take him down if they let him go. Just then he goes into cardiac arrest. One guard says not to help him because he's faking. The other wants him taken out of his shackles in helped. When they get him out and on the ground. One guard uses the defibrillator to bring Bullseye back to health and when they do he grabs it and uses it on them taking them both out.
For some reason when Bullseye gets free his first priority is Daredevil so he heads to Shadowland. Meanwhile the Avengers talk about what they are going to do. Luke Cage is worried but Iron Fist seems to think Daredevil is fine and he's just doing what they do and helping people. Captain America, Iron Man, and Thor seem to be in agreement with Iron Fist and they want Cage and Iron Fist to tell Daredevil they have his back if he can't get the job done in Hell's kitchen but also if he doesn't take Shadowland down when they want him too, they will be his greatest threat.
Knowing that Cage and Danny are the best friends of Daredevil there they were sent to talk to him. When they arrive at Shadowland, Daredevil has already engaged Bullseye in combat and sent the hand after him. When the Hand's efforts to take him out become apparently ineffective, Daredevil joins the fight himself and completely dominates Bullseye breaking both of his arms. When the fight is over, Cage and Iron Fist look on as Daredevil kills Bullseye the same way Bullseye killed Elektra.