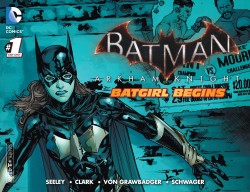 Batman - Arkham Knight - Batgirl Begins #01
DC publisher
Pages: 24
2015 year
English comics
Size: 20.3 mb.
Barbara Gordon notices someone's interest in moths while working at the library.
She joins her father (Commissioner Gordon) at a speech showing the reporters that anyone can be like Batman, all they need is the right equipment. Before he can introduce a Batman-like suit with police scientist's versions of Batman's equipment, an attack happens by a man in an apparent Moth costume, calling himself Killer Moth.
A young woman, in that police version of a Batman costume, appears, announces herself to be Batgirl, and proceeds to take down the attacker.
Barbara, as Batgirl, attempts her first 'disappearing act' after the action is over, and bumps into Batman, who suggests that this be her only time as Batgirl.