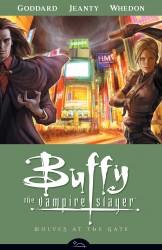 Buffy the Vampire Slayer Season Eight Vol.3 - Wolves at the Gate
Dark Horse publisher
Pages: 137
2008 year
English comics
Size: 213.7 mb.
Vampires that, on request, can turn into wolves, panthers, insects, or fog invade the Slayer base of operations in northern Scotland, not just to get away unscathed, but the disposal of slash Buffy, Slayer symbol of power around the world. Buffy and Legion Slayer travel to Tokyo to learn more about their new dangerous enemies, and Xander journeys to Transylvania to ask the only person they've ever known to possess such power: Dracula.
Collects issues 12-15 Buffy the Vampire Slayer Season Eight.
A new group of vampires more than capable of attacking and forcing Xander Killers seek help from an old enemy: Dracula.