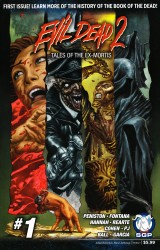 Evil Dead 2 - Tales Of The Ex-Mortis #01
Other publisher
Pages: 53
2015 year
English comics
Size: 123.6 mb.
Groovy Ash-approved first issue! The new Evil Dead "Ash-thology," kicks it into Kandarian high gear by expanding the Evil Dead Universe. The companion series to our own Evil Dead 2: Beyond Dead By Dawn calls forth four Ash-centric stories of Deadites, ghouls, monsters, and more. Featuring stories by writers Frank Hannah, Justin Peniston, and Georgia Ball with art by Enza Fontana, Gabriel Rearte, Alan Quah, and Eduardo Garcia.
WHAT IS IT: This is the companion series for the OFFICIAL EVIL DEAD 2 SEQUEL before the other sequel, EVIL DEAD 2: BEYOND DEAD BY DAWN! Certified Groovy!
FOR FANS OF: Evil Dead 2, Walking Dead, and Buffy the Vampire Slayer.
WHAT HAPPENS: Four separate stories, "Soul Power" by Justin Peniston and Enza Fontana; "Camp Deserted" by Georgia Ball and Eduardo Garcia; "The Lottery" by regular Evil Dead 2 writer Frank Hannah and Gabriel Rearte; "Deadite Man Walking" by Ivan Cohen and Pericles "PJ" Junior. All tie into the Evil Dead 2 Universe and expand what we know about Deadites, Kandarians, and the Ex-Mortis.