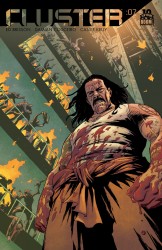 Cluster #07
Boom publisher
Pages: 30
2015 year
English comics
Size: 39,8 mb.
Why we love IT: Ed Brisson (shell) is one of the best new voices comics and we could not wait to work with him on the original series after its launch on Sons of Anarchy. Having heard his step on the sand, violent, Sci-fi epic in the spirit of The Dirty Dozen, we know that no one better to bring criminal characters life than the other half of the sons of anarchy team and Ed murder book officer, Damian Kouseyru.
Why you'll love it: Cluster series for fans of old-school cool action. Brisson and Kouseyru know how to tell stories of many characters with criminal records, and setting the outside world allows them to tell personal stories with the mass region. Have you ever thought that the book starring all the debris in ditches science fiction harbors as Mos Eysli will look like? Then we have a book for you.
What it is: In the distant future, humanity discovers life on other planets, it should soldiers to defend their colonies and outposts on the stars. In order to increase the number of boots on the ground, criminals offered the opportunity to serve in prison. But as war driving, and more soldiers are needed at short times the offense given long sentences. When a group of prisoners serving time as soldiers became stranded and abandoned war on the planet, they must work together to survive and uncover the truth behind the role of the Earth in space.