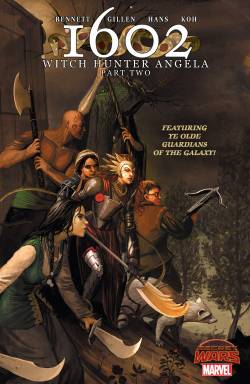 1602 - Witch Hunter Angela #02
Marvel publisher
Pages: 20
2015 year
English comics
Size: 31.2 mb.
SERIES Secret Wars
"WHERE THE WICKED THIS WAY COMES something"
The hunt is on! In Faustians made your deal with the devil - er, Enchantress - but Angela is not going to take that lying down, is it? No, not her mental tapes and very, very sharp weapon, no, it is not.
Out in the wilds of the countryside, Angela and serums face wandering caravan artists ne'er-do-wells. (Hint: its name starts with "G" and ends with "Y" and has a "Uardians in Galax" in the middle.)
Pagan rites, questionable ethics, killing curse, and Kieron and Irene By being up to no good - who can resist the temptation to Faustians?