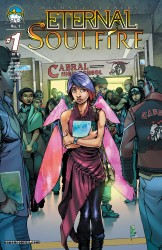 Eternal Soulfire #01
The classic adventure series Michael Turner reappears with a completely new era of mystery and magic!
A world of magic and technology, finally ran! And at the same time, a new cast of characters will grow. Cassidy, a young high school student with a very big secret, will find that the magic is not only real, but it will change your life forever in ways she never imagined. Meanwhile, Mia, an ancient warrior with the earliest days of Soulfire universe is back with a vengeance, and both of their way to be inseparably united!
First, all new series Soulfire debut with Michael Turner introduced you to his incredible magical adventure more than 10 years ago, is ready to take you on the ride of your life and explore the world of Soulfire, like you've never seen it before!