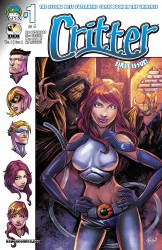 Critter #01
New remastered debut from Big Dog Ink imprint Aspen arrived!
As a young girl, a tomboy growing up Cassius, who learned karate, ran track and took gymnastics. One day, when she is kidnapped for ransom, she learns that she may have what it takes to be a superhero. But little does she know that being a hero was always in her blood!
Thanks remastered content, exclusive behind the scenes look at the Critter, creator commentary, and more! Do not miss a second of the new BDI names start with the Aspen premiere creature # 1!