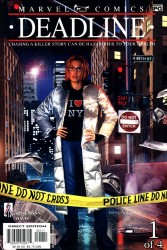 Deadline #01-04 Complete
Marvel / Collections publisher
Pages: 4 issues
2002 year
English comics
Size: 33.4 mb.
Kate Farrell hates "cape" (superheroes). Unfortunately for her, this is her rhythm as a reporter for Daily Bugle. As you can see mysterious new vigilance, leaving his body count by supervillains, he left Kat to solve the mystery of a judge. Kate Farrell presented the four limited edition, showing its interaction with the heroes and villains of the Marvel Universe in order to stop the mysterious murder of a judge again. Notable performances from the artisan, NY franchise attorneys With No Name, and almost a little obscure death CarJack, this series shows the final disposition of her son in artisan Rick Mason Agent.
With the art of Guy Davis (Sandman Mystery Theatre, BPRD) and written by Bill Rosemann, this story was reprinted in paperback trade paperback.