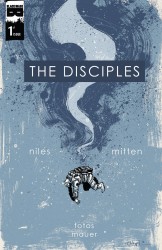 Disciples #01
Other publisher
Pages: 34
2015 year
English comics
Size: 43.3 mb.
Dagmar Rick and Jules, fearless eyes of private / hunters were hired by a senior senator to get his teenage daughter, who ran away to join a mysterious religious cult.
This is no ordinary cult, though. In the near future, "disciples" ultra-rich have become true masters of the universe through the colonization of the moon across the solar system. Billionaire industrialist McCauley Richmond is one of these colonists, he built a new society on Ganymede, Jupiter's moon where his flock cultists may have religious freedom to worship him.
But when a team reaches Ganymede their Starship Enterprise, they discover that something has gone terribly wrong ...
This ghost story in the space reunites King comic creepy Steve Niles with his longtime collaborator, Christopher Mitten, whose stylish mix of sand and flow corresponds to the sharp characterization and taste shouts Steve.