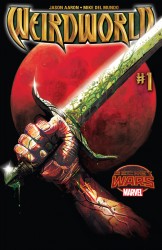 Weirdworld #01
Welcome to the wild, the most dangerous new corner of the universe Marvel. Welcome to Weirdworld.
The world of swords and sorcery and a strange, perverse nauki.Mir in which Barbarian walking alone on the dark and brutal quest at all strange and fantastic stories from throughout Marvel.
His name Arkon.Propaschy people in the forgotten world. Follow him if you dare.