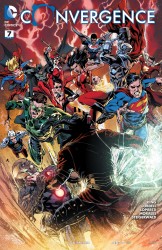 Convergence #7
DC publisher
Pages: 19
2015 year
English comics
Size: 46.2 mb.
In the second month, DC, that is, in April, the biggest event begins a new "convergence".
It seems like a weekly series Futures End and Earth 2 World's End, which should will end in March, still lead to something big - it will be a new event Convergence, which will return the characters from the 1980s, as well as present an entirely new villain. USA Today reports that from April to May, all of the current series of DC was suspended and until they are replaced by 40 mini-series: each of the two parts in which different authors talk about the heroes and villains of different worlds.
Event "convergence" originated in the late Event Superman Doomed, where Breniak was out of time and space, and is now preparing the greatest experiment in his life: he keeps the whole city from the time lines and worlds that have been completed, and make them all meet in one place. In his footsteps go Telos - an entity born from this experiment and having common features of the new world.