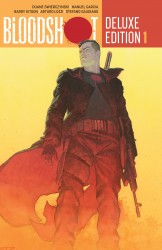 Bloodshot - Deluxe Edition - Book One
Valiant publisher
Pages: 359
2014 year
English comics
Size: 535.9 mb.
The oversized, deluxe hardcover collection of the first year of fierce bloodshot in the Valiant Universe!
not the first suicide-holds-barred run in heated skirmishes in the harbinger of war, indestructible, Nanite increased commando seeker begins the quest for long-lost response to its origin in this prestigious collection size known writer Duane Swierczynski (birds of prey), and all-star artists Manuel Garcia (Black Widow), Barry Kitson (Amazing Spider-Man), Arturo Lozzi (Immortal Weapons), and Matthew Clark (Adventures of Superman).
Your name Angelo Mortalli. Your brother is trapped behind enemy lines and on the verge - not. It is not right. Your name Raymond Harrison. You retired from the dangers of the field, but a desperate plea from your old friend, will immerse you in a vicious firefight that - no. It's not right, either. You Bloodshot. You are a shade of gray that freedom requires. Perfect fusion of military necessity and cutting-edge technology. Walking WikiLeaks. The reservoir of dirty secrets that could set the world on fire. And you've just been captured.
Collection bloodshot # 1-13, Bloodshot Deluxe Edition Hardcover oversized also comes jam-packed with more than 20 pages of never-before-seen art and supplements direct from Valiant vaults.