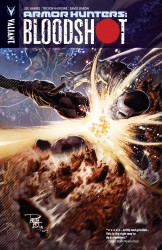 Armor Hunters - Bloodshot
Valiant publisher
Pages: 108
2015 year
English comics
Size: 165.7 mb.
Hunters began in game!
With the major capitals of the Earth under siege armor hunters, the world's most dangerous weapons decided to come in from the cold - in the service of a top-secret military extraterrestrial intelligence Outpost (MERO)! But when one of their own stages armor extraterrestrial hunters jailbreak inside the fortified command center Mero in Nanite increased commandos known as bloodshot be the last thing standing between the worst team of the galaxy hunter-killer and the secret arsenal of secret weapons is too deadly for a human hand! From fan favorite author Joe Harris (Great Pacific, The X-Files: Season 10) and a blockbuster artist Trevor Hairsine (X-Men: Deadly Genesis), start reading here most dangerous fighter Project grows Spirit brings hunt hunters!
Collect armor hunters: bloodshot # 1-3, along with never-before-revealed origin bloodshot bloodshot # 0.