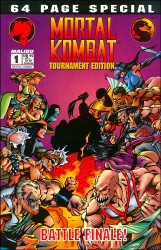 Mortal Kombat Tournament Edition (1-2 series) Complete
Collections / Other publisher
Pages: 2 issues
1994-1995 year
English comics
Size: 32.1 mb.
Thousands of years ago a group of wise men from the Far East, through the gift of prophecy, received information about the outside world ruled by Emperor Shao Kahn. Knowing that sooner or later the Emperor invade Earth, the wise men appealed to the Elder Gods for help. The gods created a law under which connect one to the other worlds could only earned 10 victories in the tournament Mortal Kombat (Mortal Kombat), which takes place every 50 years. Thus Shao Kahn and the kingdoms had 500 years to solve the problem.