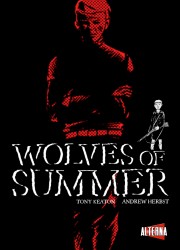 Wolves of Summer (TPB)
Other publisher
Pages: 197
2014 year
English comics
Size: 254.1 mb.
In 1945, out of the ashes of Nazi Germany, packages guerrillas calling themselves werewolves terrorize their occupied homeland. These boys soldiers were armed with rifles, explosives and vindictive passion. Instilled in psychopathic ideology from birth, this youth brigade proudly choose death over surrender. Their motto: "Hatred is our prayer, our battle cry of revenge!" "Wolves of Summer" tells a harrowing story of one such band of werewolves, making their final position, and Johnny, surviving on a quest to redeem himself from his terrible and evil past.
Collects wolves summer # 1-6.