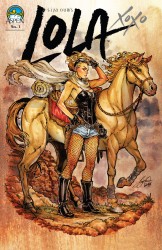 Lola XOXO Vol.1 (TPB)
Collects Lola XOXO Vol. 1 в"– 1-6!
In the "Wasteland", Lola, a young woman with a strengthened resolve to survive life on his own initiative, must travel to the US Nuclear destroyed in order to find a family that was taken from her! As she began her search for the truth, Lola reveals the true brutality of the Apocalypse, as those who seek to retain power in the new border will make it all the bloody costs, including her life!