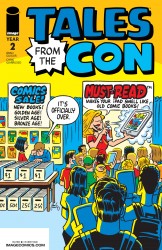 Tales From the Con - Year Two #02
Other publisher
Pages: 30
2015 year
English comics
Size: 40.1 mb.
Your favorite con artists are at it again! Following up the acclaimed first issue, TALES FROM THE CON is primed to deliver another assortment of comic-conventional comedy.
"The cartooning by Chris Giarrusso feels like it belongs as a feature in MAD Magazine or in the Washington Post's Sunday edition. Brad Guigar's commentary on the insane behaviors echoes what geeks drunkenly talk about in their hotel rooms." - Florida Geek Scene
If you've been to a comic convention, you'll recognize the scenes in TALES FROM THE CON, the irreverent webcomic that has appeared on the Emerald City Comicon website since 2012.
Written by Eisner-nominee BRAD GUIGAR (Evil Inc, How to Make Webcomics) and illustrated by CHRIS GIARRUSSO (G-Man, Mini Marvels), TALES FROM THE CON is an uproarious take on the world of comic books and conventions. Fanboys, fangirls, cosplayers, retailers, volunteers and pros repeatedly collide on the convention floor (and beyond) to prove that comic conventions are one part festival, two parts group therapy.
Collects the second year of TALES FROM THE CON strips along with bonus material.