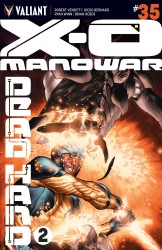 X-O Manowar #35
Valiant publisher
Pages: 33
2015 year
English comics
Size: 47.1 mb.
DEAD HAND means death!
At the far depths of space, the ultimate fault tolerance of an extinct alien race, finally, the countdown to zero ... and robot army called dead hand was aktivirovana.Tsivilizatsiya that built them fell ... and now, to combat the threat of Judgment Day, which destroyed their world, the dead hand will complete the mission that their creators could not. Heartless and cruel, this billion strong legion ghost army dead world ... and it will clean up the universe by any means necessary. But what is unthinkable threat they were created to destroy? And it will slow the march hand in the dead across the galaxy spell death for countless worlds?
Soon Aric Dacia will be forced to confront the secrets that led him to a terrible turning point that dead hand ... and fight the purposeful killing machine unlike any he had seen before! Outmatched and greatly outnumbered, as Arik can somehow stop the invincible ... something that knows no fear, only to eradicate?