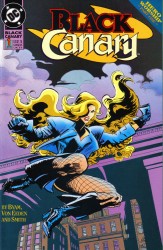 Black Canary (Volume 2) 1-12 series
DC / Collections publisher
Pages: 12 issues
1993 year
English comics
Size: 108.8 mb.
Black Canary - the name of two fictional characters in comics publisher DC Comics, as well as the name of the comic book series of the same name about a superheroine. First Black Canary, Dinah Drake was created by Robert Carmine Infantino and Kanigerom and first appeared in Flash Comics # 86 (August 1947). The second incarnation of the superheroine, Dinah Laurel Lance, is a daughter of Dinah Drake, appeared in Justice League of America # 219 (October 1983).
Black Canary ranked 71 on the list of "the greatest comic book characters," according to the magazine Wizard. In 2011, the character took 81 place in the "Hundred best comic book characters of all time" according to IGN.