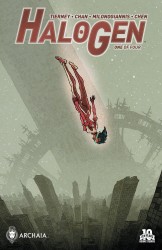 Halogen #01
Why we love: we have already published four books so far in the series, Josh Tierney in Spera because we just love his characters and stories. Now he teams up with other comics creators Afu Chan (Spera) and Yannis Milonogiannis (old town blues, the Prophet) for the new author property, sci-fi adventure.
Why you'll love it: After first collaborated on the Eisner Award nominated series Spera, the creative team behind the halogen is no stranger to kick-butt ladies, epic world-building, as well as ample adventure. This time they are strapping on their sci-fi series shoes ideal for lovers of the Prophet, rocket Girl, and The Fifth Element.
What it is: There is a rumor on Cityship Q, that gigantic body of the dead god was found floating in space. Rell, Woking agent for halogen organization charged with finding the location of a god and extract it by any means necessary. Using its ability to form a hyper-realistic holograms, Rell is going to take on the first mission, it may not be able to finish.