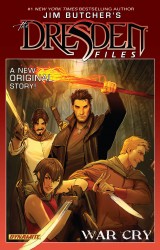 The Dresden Files - War Cry Vol.1 (TPB)
Dynamite publisher
Pages: 154
2014 year
English comics
Size: 282.8 mb.
Collects Jim Butcher Dresden Files: War Cry # 1-5!
War rages between the forces of the Red Court vampires and the White Council - a war that wizards lose. So desperate are the Council that they dragooned experienced and outcasts, to strengthen their thinning ranks of the Guardians. One of these recruits is Harry Dresden, Chicago's only master of employment and a guy who has long viewed with suspicion supernatural power. Now he's one of them, and his first big mission as Warden is a Doozy: take a small group of newcomers in a cold city in the middle of nowhere to save a handful of mortals who have targeted the Red Court. The question is why these specific death so important to the outcome of the war? The answer will come only when Harry can keep them, and his team live for one very long night.
This graphic novel collects a series of five critically acclaimed release in one volume, and has a bonus section with the original story outline Jim Butcher, sketchbook work Carlos Gomez, cover gallery with sketches by Stjepan Sejic, and more!