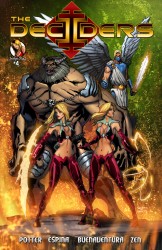 The Deciders #01-04
At the 23 th century, scientists convert the gods and spiritual beings in a slave species called "Seculites". Policemen Seculites twins "virgins" and "Decoda", which belong to the elite group of law enforcement officers called "Deciders".
During the next mission, virgins and Decoda lured into a trap, which sends them back to 2013.
Caught in a web of Machiavellian plans of the gods, which reach from the highest tower of Heaven in a fiery pit of hell, the twins are in a situation unlike any of them could have imagined. They need to grow quickly while they are fighting for their lives ... and to find destiny, no one ever expected ..